ЭЛИТНЫЕ АПАРТАМЕНТЫ, ВИЛЛЫ "De Luxe", КОТТЕДЖИ, КВАРТИРЫ НА ЧЕРНОМОРСКОМ ПОБЕРЕЖЬЕ КРАСНОДАРСКОГО КРАЯ, СОЧИ
| | | | | | | |
| --- | --- | --- | --- | --- | --- | --- |
| СОЧИ | АДЛЕР | ДАГОМЫС | ХОСТА | КУДЕПСТА | КРАСНАЯ ПОЛЯНА | ЛАЗАРЕВСКОЕ |

ELITE REAL ESTATE SOCHI

| | | | | | | | | | | |
| --- | --- | --- | --- | --- | --- | --- | --- | --- | --- | --- |
| ДОМА | | ВИЛЛЫ | | КВАРТИРЫ | | УЧАСТКИ | | КОММЕРЧЕСКАЯ | | БИЗНЕС |
| | | |
| --- | --- | --- |
| ЭЛИТНЫЙ КУРОРТ СОЧИ | | ELITE RESORT SOCHI |
Luxury Real Estate ★ Sochi ★ Adler ★ Hosta ★ Dagomyis ★ Matsesta ★ Krasnaya Polyana
ELITE REAL ESTATE FOR ACCOMMODATION, REST & BUSINESS IN SOCHI, ADLER, RED POLYANA
SALE OF HEALTH ★ TREATMENT HEALTH & HEALTH BOARDING HOUSES IN SOCHI
Health resorts, motels and resorts in Sochi are located in picturesque resort places near the sea and are in great demand. Sanatoriums, boarding houses in Sochi - this is a treatment at the highest European level. Health-improving programs of sanatoriums and boarding houses are based on the optimal combination of natural factors of the resort of Sochi and the latest medical achievements. The famous Matsesta hydrogen sulfide mineral springs have no analogues all over the world; here they treat the musculoskeletal system, cardiovascular diseases, and respiratory tract. The medical buildings of the sanatoriums are surrounded by palm trees, cypresses, magnolias and other exotic plants. Sochi sanatoriums have ennobled parkland, swimming pools, SPA services, restaurants, sports and playgrounds, as well as their own equipped beach. Millions of tourists annually come to Sochi not only to relax, but also to improve their health. The therapeutic effects of climatic features of the Black Sea coast greatly increase the effectiveness of rehabilitation courses. Hundreds of sanatoriums and boarding houses in greater Sochi offer a wide variety of medical and health services, recreation and treatment at affordable prices.
In Sochi, they treat diseases of the cardiovascular system, central and peripheral nervous systems, the musculoskeletal system, gynecological, dermatological, immuno-allergic diseases, diseases of the endocrine system, gastrointestinal tract and respiratory organs. Sanatorium-resort treatment in Sochi combines the specific methods of healing peculiar only to this area with the general ones applied at any other resorts. Special methods of spa treatment include various elements of climatotherapy, balneological treatment (hydrogen sulfide, iodine-bromine, carbon-arsenic baths), mud therapy, and some types of physiotherapy exercises. Common methods of treatment include physiotherapy, some types of hydrotherapy ("pearl" baths, various kinds of showers), physiotherapy exercises, therapeutic nutrition, psychotherapy, and medication. For treatment, Matsesta hydrogen sulfide mineral springs are widely used. "Matsesta" treat rheumatism, circulatory failure, varicose veins, atherosclerosis, diabetes mellitus, skin diseases, chronic inflammatory diseases in women, joint diseases, etc. However, this potent remedy is contraindicated in all diseases in the acute stage, diseases of the liver, kidneys, gallstone disease, tumors, asthma, tuberculosis and some other diseases. In most Sochi sanatoriums, in addition to the Matsesta, they offer treatment with adler sludge mud (such treatment is prescribed only in the absence of heart disease). Kudepsta's iodine-bromine waters act more gently, therefore they help very sick "cores" and just tired people.
The specialists of our company will professionally talk about the advantages and features of the purchase and sale of health resorts, spa properties in Sochi, Adler and Krasnaya Polyana. Our company will show you the best offers of medical sanatoriums, health resorts, health resorts, dispensaries, hotels, hotels from the segment of spa and hotel real estate in various price categories, and we can offer resort real estate for recreation, housing, business and profitable investments . The property will be shown on its own comfortable transport with detailed explanations of a qualified specialist in resort real estate in the city of Sochi.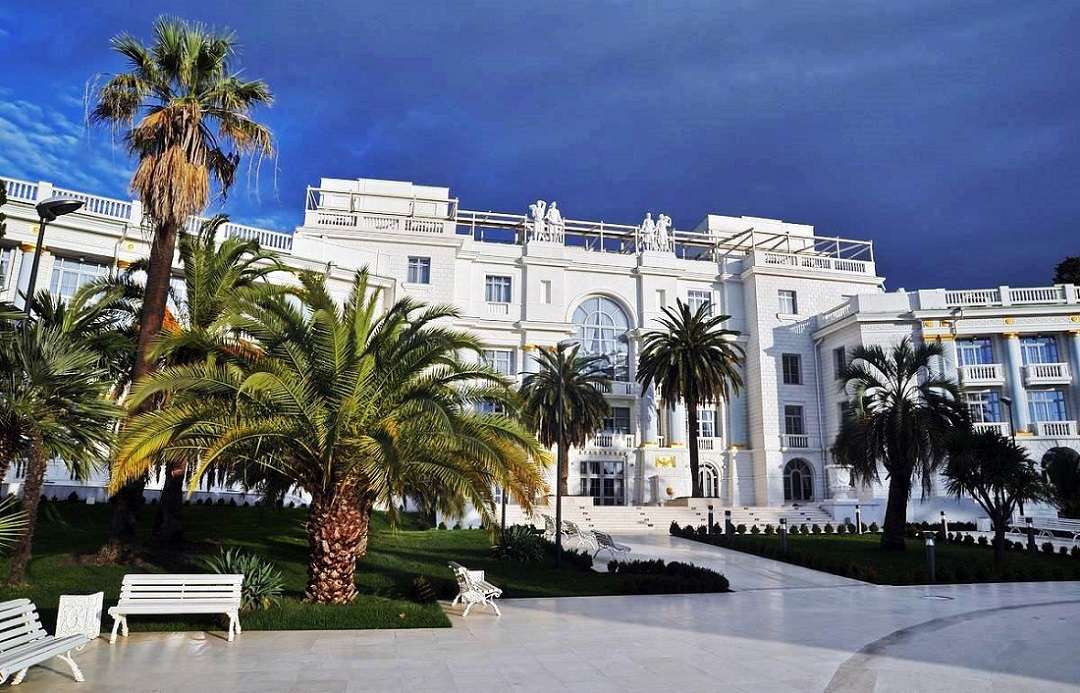 Sale of elite resort real estate in the city of Sochi is a core business of our company. We have a large database of offers, including luxury apartments, luxury homes, villas and penthouses in various areas of Sochi. The main advantage when contacting our company is the high professionalism of the staff to provide services in selecting elite resort housing, exclusive commercial real estate or a ready-made business. Our company has been working in the elite real estate sector of Sochi for a long time and offers a wide selection of the most diverse elite class properties. Among them are apartments, penthouses, apartments, houses, villas and cottages by the sea, as well as hotels, hotels, medical sanatoriums, health resorts, pensions, large residential, hotel, retail, office and entertainment complexes. Resort real estate in Sochi is a fast-returning investment that generates income all year round. Cooperation with KUBANMAKLER is an excellent opportunity to become the owner of your own resort real estate or business in one of the most dynamically developing regions of Russia - the city of the resort of Sochi.
ПРОДАЖА ОТЕЛИ ★ ГОСТИНИЦЫ ★ ЛЕЧЕБНЫЕ САНАТОРИИ ★ ПАНСИОНАТЫ ★ ГОСТЕВЫЕ ДОМА
ГОСТИНИЧНЫЙ БИЗНЕС ★ РЕСТОРАНЫ ★ КАФЕ ★ МАГАЗИНЫ В СОЧИ ★ АДЛЕРЕ & КРАСНОЙ ПОЛЯНЕ
SOCHI MAIN RESORT OF RUSSIA
Many well-to-do people of the capital, having an apartment in the city and a house behind it, turn their eyes to the Black Sea coast, primarily to Sochi. This city is the largest resort in Russia, unique in its natural and climatic characteristics, located in the subtropical climate zone, it stretches along the coast for 146 km.
Here is a magical summer with the sea at 25 degrees and pleasant nights and mild winters with dry sunny January - the most suitable time for a winter holiday. Here are the best sanatoriums in the country with mud, mineral waters, and in terms of their health resort features, Sochi is comparable to Davos, the southern coast of France, Toulouse and Bordeaux. Sochi enjoys great attention from the political and business elite, the presence of the residence of the President of the Russian Federation "Bocharov Ruchey", as well as visits of heads of state and other dignitaries here play an important role. Due to active demand, prices for Sochi's new buildings are growing by 30% per year and, according to analysts, will continue to grow for a long time, so Sochi real estate is extremely attractive from an investment point of view.
The situation in the commercial real estate market in Sochi is determined briefly - everything is growing: the volume of construction, consumer demand, the price per square meter. In the next two years, we should expect a further rise in price for Sochi real estate. The reasons for this phenomenon are quite objective: high demand, limited supply, access to the local real estate market of many well-known Moscow investors. The main factor affecting the cost per square meter in the resort is considered the class of the house. Among the main criteria for a class of housing, experts single out proximity to the sea, the infrastructure of the district, and the ecological situation. The most popular are objects located within 0.5-1 km from the sea. In all new buildings of the elite and business class of the city of Sochi, free-standing covered parking lots, children's playgrounds, swimming pools, and guest parking lots are necessarily provided.
After the Winter Olympics in 2014 Sochi has grown as a tourist and sports center. Over 15 sports facilities have been built here mainly in the coastal and mountainous parts of Sochi. On the coastal strip, the Olympic Park sports complex was built, where there are ice palaces, hotels, the Olympic village, a press center and port, and after the games they began to organize various kinds of fairs, exhibitions, forums, conferences.
Every year, the trend is becoming clearer: nonresident buyers are buying real estate in Sochi for investment purposes. Investing in Sochi houses is one of the most profitable on the country's real estate market. The reason for this is simple: now large investments are being made in the development of Sochi in the expectation that the city will turn into a resort of international importance, and the acquisition of Sochi real estate is clearly not threatened with a loss of funds even in the event of any real estate market crisis in the country.
The main factor affecting the cost per square meter in a new building is the location area. Big Sochi includes four districts - Central, Khostinsky, Adlersky and Lazarevsky, and the main construction of modern elite residential complexes and business class houses is carried out by large Moscow construction companies in the Central and Khostinsky districts of Sochi. Recently, there has been an active interest in the Russian resort from foreign investors and construction organizations. Construction is underway in the neighborhoods of Makarenko and Ared in the Central District, in the villages of Lazarevskoye, Kudepsta and Adlersky District.
Great expectations are placed on the development of the ski resort Krasnaya Polyana. They plan to build about 20 new tracks for snowboarding, skiing and other winter sports. This modern health resort will be able to serve up to 25 thousand tourists.
The center of Krasnaya Polyana is a district with existing buildings and today it is better provided with infrastructure and communications, there is a hospital, school, kindergarten, many shops, a market, a pharmacy, an ambulance station, and a fire department. The village of Esto-Sadok was built 5 kilometers from Krasnaya Polyana and is closest to the existing and under construction ski resorts, now there are dozens of private hotels, restaurants, a nightclub, bowling alley, rental equipment and sports equipment.
The Sadovy microdistrict is a beautiful place in the Beshenka river valley, surrounded by protected chestnut forests of the Sochi National Park, about 150 plots ranging from 12 to 30 acres will be built here with private chalet-style mansions, local places are popular with representatives of the cultural and business elite of the capital . In Krasnaya Polyana, several club mansions for 6-12 apartments grow in a year. They have their own fenced area, for each apartment there is a parking place and a storage room in the basement. Currently, in the center of Krasnaya Polyana, a complex of four 11-apartment houses with the working name "Residence of Polyana" is under construction, the construction of the cottage village "Courchevel" is planned, which will be an elite club-type village with wide opportunities for mountain and sea recreation round year. All owners of cottages will be able to use the infrastructure of elite complexes located in the resort of Sochi in the areas of Cape Vidnoye and Bytha.
Sochi is a brand that customers are willing to pay for. The city has every reason and opportunity to become a significant resort center with developed infrastructure and quality service, as it has great potential and has no alternatives on the scale of our country.
Our company offers to consider options for investing money in resort real estate in the city of Sochi, with the aim of making a profit through a possible resale or rental.
REAL ESTATE & BUSINESS SALES SERVICES IN SOCHI
Hotels, apart-hotels, health resorts, mini-hotels, guest houses, club houses, restaurants, shops, boutiques, cafes, office, shopping, entertainment complexes, buildings, business centers, land in Sochi. Our experts will help you choose the options for buying liquid commercial resort real estate and a ready-made business in the areas of Greater Sochi that interest you.
The KUBANMAKLER company offers various sales options - the purchase of existing health resorts, medical sanatoriums, health resorts, rest houses, hotels, hotels in any district of Sochi, Adler and Krasnaya Polyana. We will help you choose a sanatorium, health resort, boarding house, hotel, hotel according to the wishes and possibilities of the buyer, conduct a transaction of any complexity in strict accordance with the laws of the Russian Federation. We offer a full range of services related to the selection of resort real estate in Sochi, as well as further registration of property rights. To select the option you are interested in, leave us your Purchase Request.
Инвестирование в недвижимость, бизнес в Сочи
Рекреационный потенциал курорта Красная Поляна
Санаторно-курортная недвижимость Сочи, Адлер, Красная Поляна
Инвестиционные проекты, инвестирование в объекты бизнеса Сочи
Инвестирование в элитную недвижимость Сочи: дома, квартиры, виллы

CONTACTS
+7-918-632-79-88; doma-na-more@mail.ru

Инвестиции в недвижимость, действующий бизнес Сочи – гарантия сохранения и приумножения капитала!

| | | |
| --- | --- | --- |
| УДОБНО | ВЫГОДНО | БЕЗОПАСНО |
| Встретим и разместим в Сочи | Нам платит продавец | Продаем надежные объекты |
| Вежливые сотрудники компании | Договоримся о скидке | Проверяем документы |
| Ознакомим с Большим Сочи | Покупка напрямую | Правильное оформление сделки |
| Предоставим на выбор объекты | Акции при продаже | Безопасные схемы расчета |

Миллионы туристов ежегодно приезжают в Сочи не только отдохнуть, но и поправить здоровье. Сотни санаториев предлагают самые разнообразные оздоровительные услуги. Санатории и пансионаты Сочи зачастую расположены в живописных курортных местах рядом с морем и пользуются большим спросом. Обычно они имеют облагороженную территорию с собственной зеленой аллеей со скамейками, детской площадкой, бассейном, столовой, автостоянкой и т. п. Также, курортные санатории и пансионаты имеют собственный оборудованный пляж.
Каталог: Санатории с лечением, оздоровительные пансионаты большого Сочи
ЖИВИТЕ
&
ОТДЫХАЙТЕ У ЧЕРНОГО МОРЯ ПРОДАЖА КУРОРТНОЙ НЕДВИЖИМОСТИ В СОЧИ
ЭЛИТНАЯ НЕДВИЖИМОСТЬ ДЛЯ ЖИЛЬЯ, ОТДЫХА & БИЗНЕСА В СОЧИ, АДЛЕРЕ, ХОСТЕ, КРАСНОЙ ПОЛЯНЕ
НЕДВИЖИМОСТЬ
&
ЗЕМЕЛЬНЫЕ УЧАСТКИ
НА ЧЕРНОМОРСКОМ
&
АЗОВСКОМ ПОБЕРЕЖЬЕ
В базе данных компании КУБАНЬМАКЛЕР: недвижимость, земельные участки на Черноморском и Азовском побережье Краснодарского края: объекты коммерческой, промышленной, жилой недвижимости и действующего бизнеса - кафе, магазины, пансионаты, санатории, базы отдыха, гостиницы, отели, земельные участки, дома, коттеджи, виллы, особняки, квартиры, апертаменты, резиденции, недвижимость Сочи, Адлер, Дагомыс, Хоста, Красная Поляна, Анапа, Геленджик, Туапсе, Ольгинка, Криница, Дивноморск, Джубга, Новомихайловка..